There is a new set in town, baby, and, boy, is it amazing! I only just saw it for the first time last Friday… On the call sheets it's called 'Int-Stellar Bomb'- the interior of the Stellar Bomb.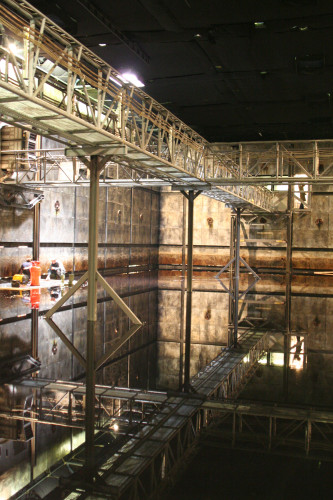 It's a massive set- the biggest on the film- filled with an oil-like substance made by the Set Decorating Department. Obviously, oil itself wouldn't be ideal on set, so they made it out of safe materials: cellulose, water and aniline dyes. They mixed it all together in different huge vats and then drizzled out the gloopy mixture to fill the entire set.
Running above the lake of oil are two catwalks on which the action takes place. I can't tell you what 'action' exactly, but I can tell you that Cillian Murphy and Cliff Curtis were filming there yesterday, though the rest of the filming is going to be Cillian on his own.
We had some physicists come to visit last week- two of whom Cillian spent time with at CERN Particle Physics Lab in Geneva to prepare for his role. As we walked along the catwalks on the Stellar bomb set they said, 'It's just like being on shift', because the set felt so similar to one of their experiments.
The inspiration for the 'lake' on this set was the Super-Kamiokande Neutrino detector in Japan. Of course, you all know that's where they have been detecting and studying neutrinos. And, of course, you all know that neutrinos are produced in nuclear reactions in the Sun. Considering that several million billion neutrinos flew right through your head while you've been reading this sentence, one can only imagine how difficult it's been to detect and study them…